May Mei
Executive Director
May Mei is the Executive Director of GoalBlue Low Carbon & Promotion Center. Previously leading WildAid China as the Chief Representative for 11 years, May has extensive knowledge and experience managing and operating an international NGO. Prior to WildAid, May worked for over a decade at CCTV and Hunan TV as director and producer of top programming.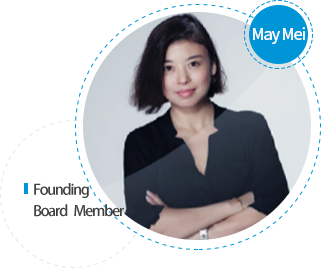 Driven by a strong passion and determination for innovation and impact, May joined WildAid US in 2003, launched the initiative in China in 2004, and was appointed the Chief Representative of WildAid China in 2005. Her unique style of marketing and inspiring leadership enabled WildAid to achieve incredible success through a series of awareness raising campaigns for endangered species and climate change. The most recognized and influential campaigns include, "Olympic Gold Medalist PSA Series," "Say No to Shark Fin," "Ivory Free" and "GoBlue."
Under May's guidance, renowned international celebrities including Jackie Chen, Yao Ming and Yang Lan joined the global WildAid movement, later becoming influential champions of the local initiative. WildAid China PSA achieved weekly ratings as high as 1 billion views across the country and allocated prime PSA broadcasting airtime valued at RMB150~200 million every year.
In August 2016, May established the domestic NGO, "GoalBlue", with a focus on sustainable lifestyle and environmental protection - "Smart Eating","Clean Commuting" and "Blue Ocean".